---
You can buy as many cards as you like, for yourself or as a gift. See the options:
Pré-Pago MASTER 1 MONTH R$19,90
Pré-Pago MASTER 3 MONTHS R$59,70
Pré-Pago MASTER 6 MONTHS R$119,40
Pré-Pago MASTER 1 YEAR R$218,90 (pay 11, take 12 months)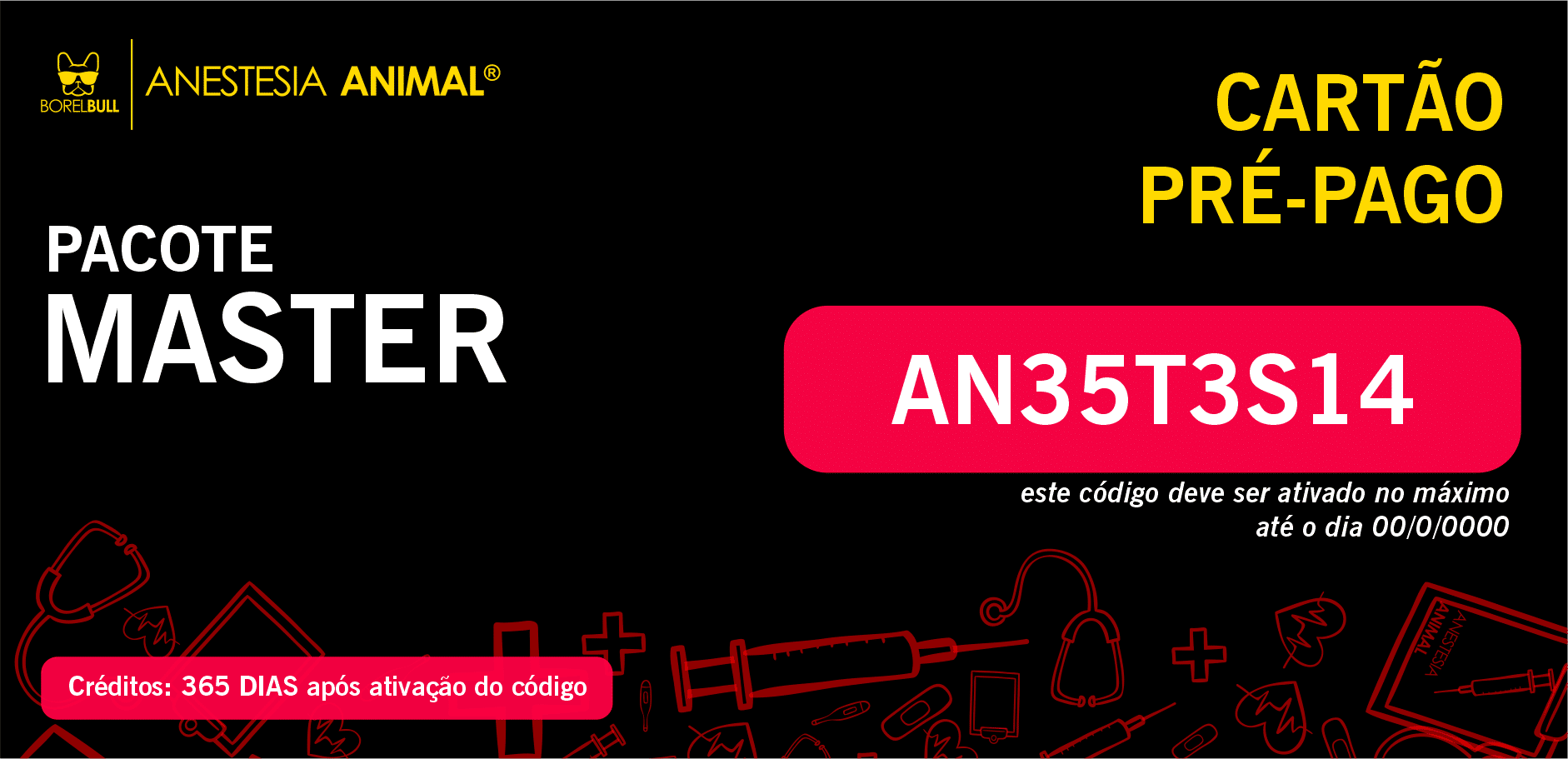 ---
COMMON QUESTIONS
See the most common questions about Pre-paid Cards
The Pre-Paid Card is a digital product and is equivalent to a package of credits that gives you access to the MASTER functions of the Anestesia Animal app during the corresponding period (1 month, 3 months, 6 months or 1 year). As it is not a subscription, there is no recurring billing cycle. Payment is made only once.
Despite not being a subscription, our prepaid cards give you the same benefits with partner companies offered to subscribers.
The Card can be activated up to 2 years after its issuance date. After the end of credits, the user's account returns to the FREE plan. There is no renewal, but you can buy another card and add up the credits whenever you want.
Yes! Just add the new card and the credit days will be added to your account.
Yes, but in this case, you will need to contact our team, as the field to enter the code in the app does not appear for subscribers.
If you are already a subscriber, after purchasing your card, please contact support so that we can modify your subscription and add the credit days to your account.
Cards must be activated within 2 years of their issue date. You will see the expiry date on the card.
Do not confuse expiration date with purchased credits. For example, if you buy a 6 month card on 10/01/2020, you must enter its code in the application until 10/01/2022, after activation 180 days of credit will be released in your account. If you already have previous credits, don't worry, they will be added to the credits of the new card.
You can pay via Credit Card, through our partner PayPal. The charge is made only once, there is no recurrence, as this is not a subscription plan.
After clearing the payment, you will receive the card code by email within 12 hours to activate it in the Anestesia Animal app.
The same rules as other products sold in virtual stores are valid for Anestesia Animal prepaid cards; according to the Consumer Defense Code, you have a guarantee of 7 working days counted from the sending of the card by email; within this period, if you regret the purchase, you can request a refund, send an email to [email protected] within the warranty period and you will be promptly attended to. If the card has already been activated, it will be inactivated and the user account that used it will return to the FREE plan.
More details on check our Terms of Use
Yes! You don't even need to be an app user to purchase a card. This is a great gift option for anesthesiologist friends. You will receive the card in the email and can forward it to your friend or friend.
It is not possible to transfer credits to another user. All cards and subscriptions are personal and non-transferable.
The Prepaid Card is not a plan, therefore it is not possible to "change plans". However, if you no longer want to be a prepaid user and want to subscribe to a conventional TIVA, PLUS, MASTER or CORPORATE monthly recurrence plan, just wait for your credits to run out and proceed with your subscription.
For more information about cancellations, see clause 7  of our terms at: anestesiaanimal.com/termos
It is not possible to PAUSE prepaid cards. If you request cancellation, your account returns to the FREE plan. It is not possible to transfer credits to another user and there is no refund for a retroactive or future period that will not be used, except when within the guarantee period of 7 (seven) days guaranteed by the Consumer Protection Code.
More information on cancellations see Clause 7 of our Terms of Use
---
PT-BR
Os dias de crédito dos cartões pré-pagos considera o mês comercial para os pacotes Mensal, Trimestral e Semestral; e ano não bissexto para o pacote Anual. Ou seja, a quantidade de dias de crédito após ativação é: Mensal = 30 dias; Trimestral = 90 dias; Semestral = 180 dias; Anual = 365 dias;
EN
The credit days of prepaid cards consider the business month for the Monthly, Quarterly and Half-yearly packages; and non-leap year for the Annual package. That is, the number of credit days after activation is: Monthly = 30 days; Quarterly = 90 days; Semiannual = 180 days; Annual = 365 days;
ES
Los días de crédito de las tarjetas prepagas consideran el mes hábil para los paquetes Mensual, Trimestral y Semestral; y año no bisiesto para el paquete anual. Es decir, la cantidad de días de crédito después de la activación es: Mensual = 30 días; Trimestral = 90 días; Semestral = 180 días; Anual = 365 días;